Real Arcade Performance from over 40 years of games
It's finally here. The official Pandora Box Arcade Home Arcade Console.
Developed by Arcade Owners for home use, these retro arcade machines power over 40 years of the most popular home and arcade games in one machine.
The official Pandora Arcade Platinum supports over four decades of video games from classic 70's and 80's arcade games like Donkey Kong and Space Invaders, all the way to PS1, Super Nintendo, Sega Genesis, Original Nintendo, Arcade Only Games like The Simpsons Arcade, Xmen The Arcade Game right down to NEO Geo games and unreleased import Japanese games that you didn't even know existed.
Read more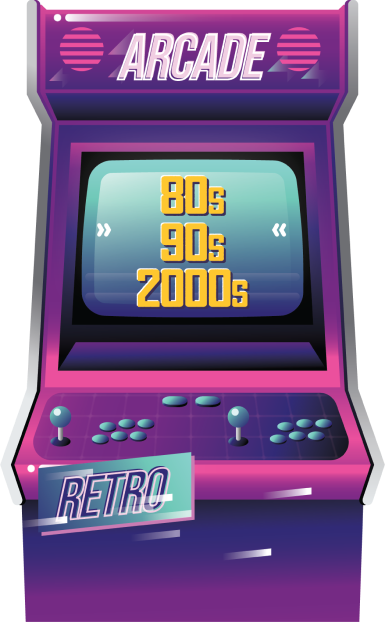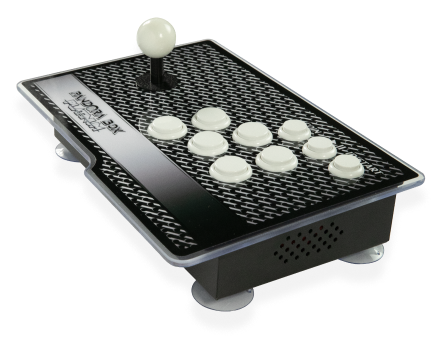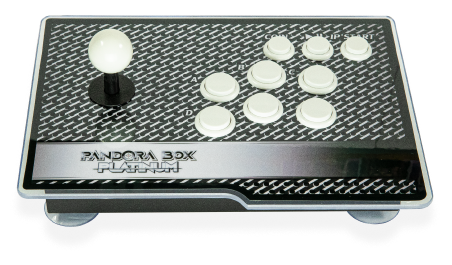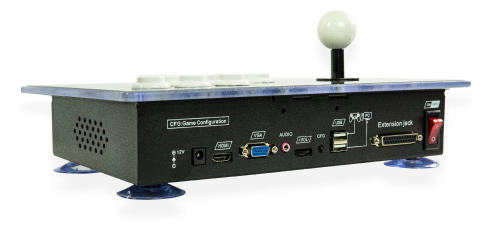 The Best Home Arcade Console Designed by Arcade Owners
Pandora Box Arcade Game systems are designed with the home arcade system experience in mind. Pandora Box is manufactured as a double two player arcade panel or a dual separated panel made with real arcade joysticks, buttons and hardware that you can take anywhere at anytime. So yes, Pandora Box Arcades are fully portable potentially all in one game systems.
01.
Super HD For Super High Definition
Retro games look odd sometimes on newer epic TVs with such large screens. The pixels are pulled apart. The Pandora BOx Arcade Platinum is engineer with Super HD technology and upscales your favorite retro games so that they look just as awesome on your 85 inch flat panel TV.
02.
Memory Card Support
Want to up your game and change up the Retro Games that your Pandora Box Arcade can play? Then just change or upgrade your card to recreate the home arcade experience that you want. Play the games you want to play!
03.
Add Up To 4 Players At Same Time
Remember some of the retro arcade games that had 3 or more players? Want to have the best home arcade experience that you loved? Then expand your Pandora Box Arcade to play all the 3 and 4 player arcade games like:
The Simpsons Arcade Game
Xmen The Arcade Games
Teenage Mutant Ninja Turtles Arcade
Aliens versus Predator
Sunset Riders
Dungeons and Dragons Arcade Game
Rampage World Tour
WWF Wrestlefest Arcade Game
And so many other 3 and 4 Player Arcade Games!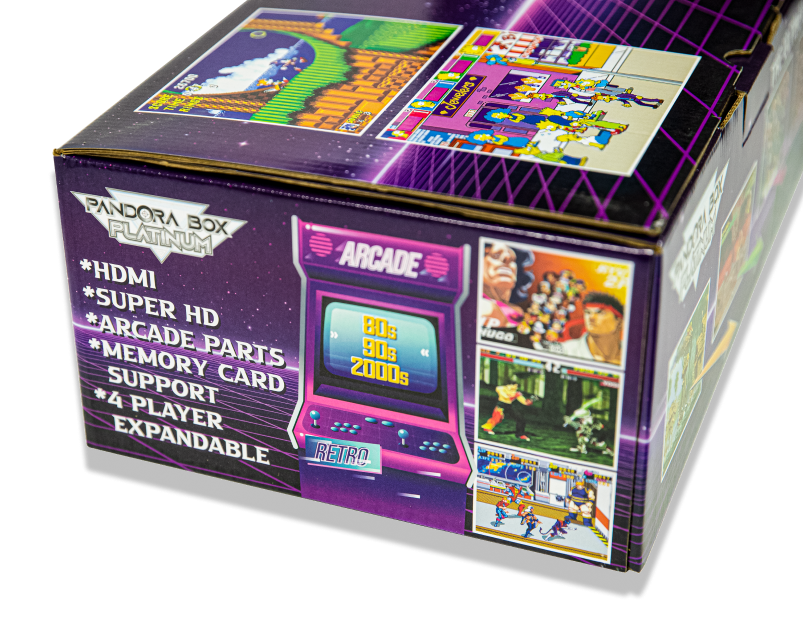 What True Retro Gamers Are Saying

Running a local retro arcade is hard with the insane rising costs of machines running into the thousands. The Pandora Platinum retro home arcade consoles have made it easier to offer a wider selection of cabinets at a cost conscious price. Our retro gamers are happy!
-AARON WALTER

As a full time retro game reviewer (and being a woman), it's hard to get everything I need to do my retro reviews. However that changed now that I can play all my favorite Arcade, Super Nintendo, NES, Genesis and even NEO GEO games on one console. This thing has the ability to do it and do it well.
-NATALIE FORD

I bought the Pandora Box Arcade for my boyfriend and his kids. I remember the "arcade days" and wanted to re-create that to be a thing in our home now. This box has the ability to do everything. Well mostly everything..lol
-PAULA SCRIVENS

I do retro game speed runs and I've don ALOT of them, however the Pandora Arcade Box Platinum how enabled me to run games that I didn't even know existed. There are so many classic game and retro gems out there that no one even knew existed. Ok, now on to the next game!
-TERRY JORDAN
Only Home Arcade Technology with SUPER HD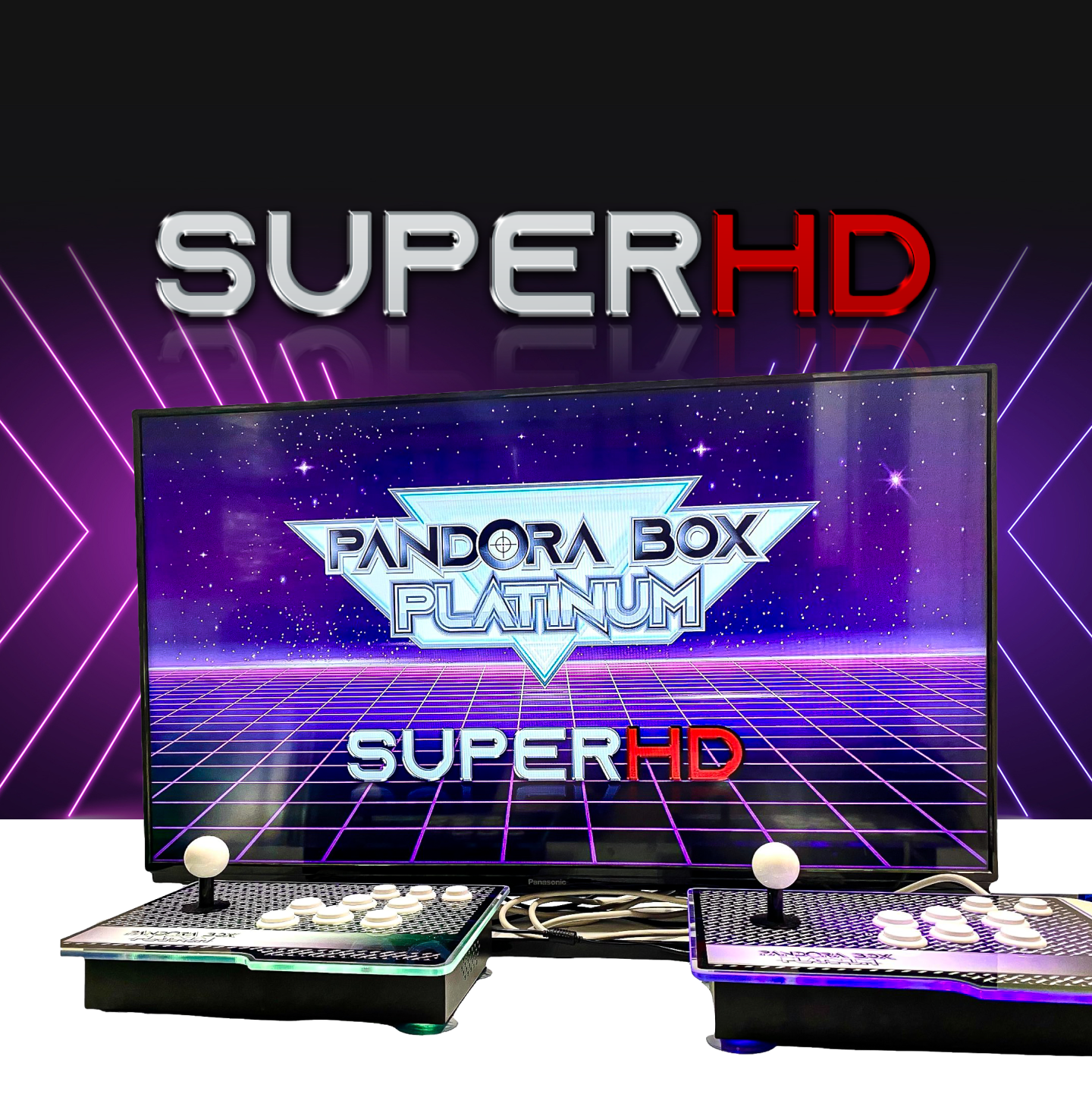 The Pandora Box Arcade Platinum home arcade console was designed for modern day HDMI connections with Super HD technology but it also is compatible with VGA monitors. So whether you have an retro PC monitor, or a HD projector, you can display and play thousands of games almost anywhere.
Pandora BOx Arcades are built to last. These home arcade games are simple, fun and easy to start. Now you can forget complex computer programs, and device hacks that can break easily. Now you can have the best home arcade systems at the best price. No need to spend thousands of dollars on one classic arcade game that is beat up and you can't even find parts for.
Pandora Technology was designed just for playing retro games. So it's all classic games, with a classic gaming feel all the time, right out of the box.
Real Arcade Parts for Real Arcade Play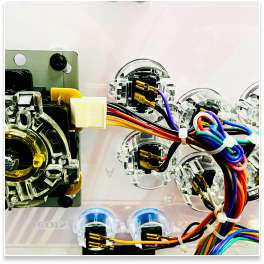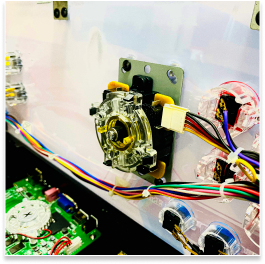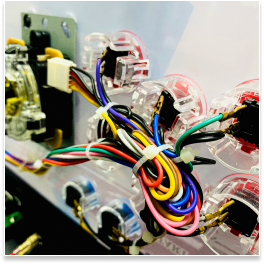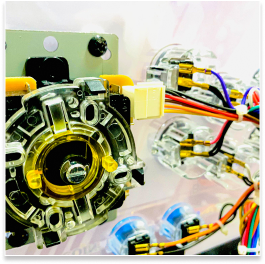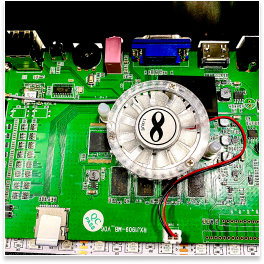 Expandable to 4 Players!
Just like the Good Old Retro Arcade Days!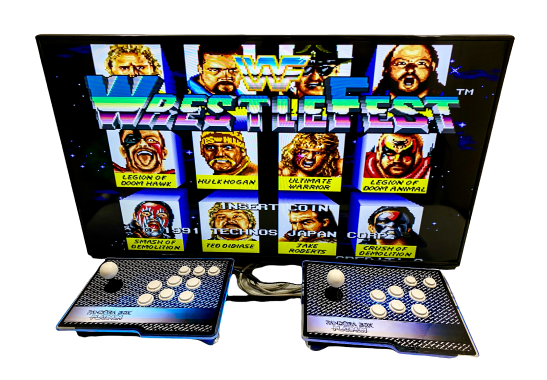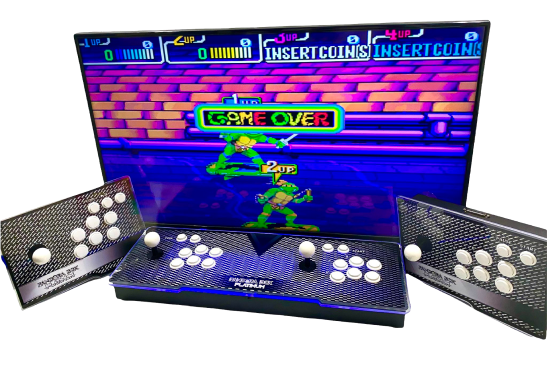 #pandoraboxplatinum
#tekken3
another arcade fighting classic that the ...
more
Watch Pandora Platinum in Action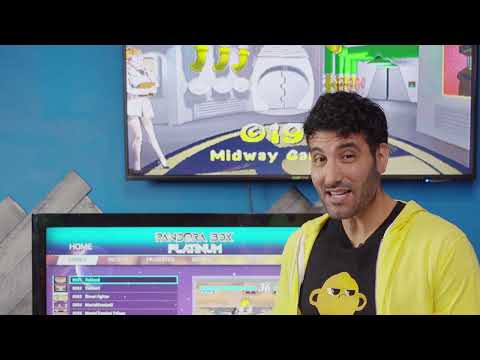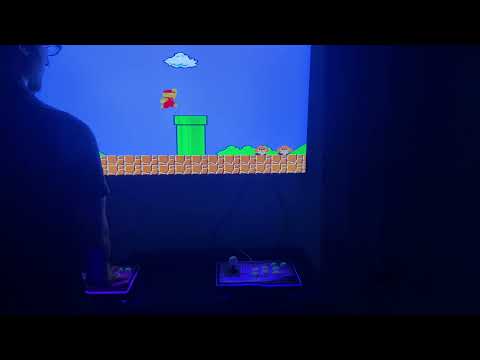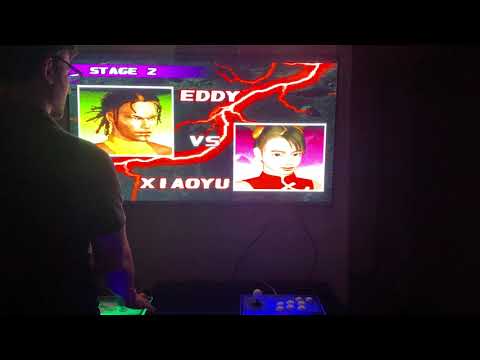 The Best Retro Look, Even in the Dark
Bring Home the Best Home Arcade Machine For You