Why Pandora Box Arcade Platinum Pro is the Best Pandora in 2023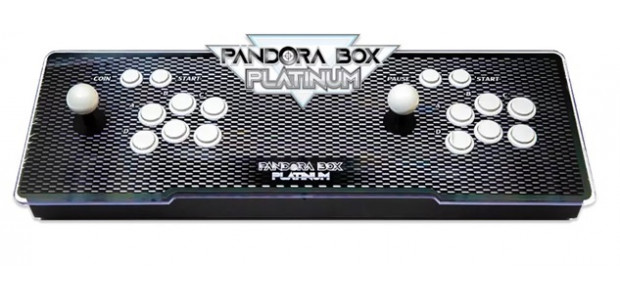 Pandora Box Arcade Platinum Pro is the best Pandora there is. It looks like an ordinary box from the outside but is capable of doing wonders from the inside! In terms of its performance, reliability, and provision of an immersive arcade gaming experience, Pandora Box Platinum Pro lives up to its name.
Pandora Box Arcade Platinum Pro
The best Pandora Box Arcade Board is the very definition of what precisely defines the best retro arcade machine. Its beefy hardware is capable of powering up the 4 decades of retro games like a piece of cake.
Pro Hardware and Software Integration
Gone under thorough testing to optimally function in diverse situations, Pandora Box Platinum Pro provides its user with hardware that instantly solves many issues prevailing on other home arcade retro consoles. You can forget about sudden game crashes, screen tearing, audio glitches, and unresponsive games. Thanks to the efficient software coding of Pandora system software, you can now play for hours without any lagging in your gaming.
Furthermore, the Pandora Platinum hardware is also upgradeable to take your retro arcade gaming several notches up! You can order the hardware from here: click here
Furthermore, Pandora Platinum also features an impressive cooling system that prevents your home arcade system from overheating. Excessive gaming on any console causes heating issues.
Overheating in many retro arcade machines is a normal issue to come across with. On the other hand, Pandora Box Platinum Pro is equipped with a state-of-the-art cooling fan. This enables you to retro game on your Pandora arcade without any lagging problems.
HD display and Intelligent Upscaling
Retro games originally featured low-resolution games on outdated 4:3 aspect monitor screens. However, modern technology has enabled upscaling to HD resolution on a much preferred 16:9 flat-screen TV.
Despite this, due to poor engineering, several retro home arcade consoles still struggle with upscaling that, more often than not, results in pixel stretching or screen tearing.
Built with a modern gaming concept in mind, Pandora Box Platinum Pro is able to smartly upscale the old 4:3 aspect ratio games to match the modern aspect ratios, such as 16:9 without breaking any sweat. The original low-quality retro games look astonishing on the modern 720p and 1080p HD screen TVs.
Both dual and Separate Panels
This is indeed a striking feature of the Pandora Box Platinum Pro that makes it stand out from its competition. While ordinary arcade panels come with built-in duo panels that players can sit around and play. This sounds good but more often than not it so happens that you want to change your position around the room but your partner doesn't agree.
Maybe because where you want to re-adjust it is only feasible for one person to sit. Or maybe your partner is comfortable in his or her seat and does not want to abandon it. Whatever the reason, Pandora Box Platinum Pro has got you covered.
Maybe because where you want to re-adjust it is only feasible for one person to sit. Or maybe your partner is comfortable in his or her seat and does not want to abandon it. Whatever the reason, Pandora Box Platinum Pro has got you covered.
And the story just does not end here which proves why the Pandora Box Platinum Pro is the best Pandora there is. Adjustable volume controls, numerous output support, the ability to save games, multi-language support, a searchable game library, and aesthetic night lights are some of the amazing features that make it the best Pandora Box.
Clone Copies of Pandora Box Platinum Pro
And as of now, we have numerous models and several clone copies of Pandora Boxes are becoming increasingly difficult to distinguish the fake one from the real one.
This is a very pressing matter and that is why it is mentioned here. There are several websites that offer the sale of Pandora box arcade machines but in reality, are clone copies.
Because we value our customers' time and money, we suggest you get the genuine Pandora Box from the official Pandora Box Arcade website only here: click here
Just to give you an idea, Pandora Box 7, 9, 9D, 9H, X, X+ 11, 11s, 12, 12s, 18s, 19, 28, and Saga are all clone copies.
Many times, what a buyer places an order for does not receive what was originally asked for. More often than not, the buyer gets delivered some other arcade gaming console. Sound output issues, screen tearing problems, overheating, and sudden game crashes are redundant in the clone copies.
Emulation in Platinum Box Platinum Pro
Platinum Box Platinum Pro has been developed to be an all-in-one console. It was not designed to run games only from the arcade era but with the concept to integrate other home gaming consoles of the time.
Thanks to its intelligent emulation feature, some of the consoles it can emulate are as follows: PSP (PlayStation Portable), PS1 (PlayStation 1), Sega Genesis, Sega Master System, Dreamcast, Original Nintendo, Super Nintendo, Nintendo 64, GameCube, Neo Geo, Gameboy Advance and the list goes on…
List of some Retro Emulators:
Here is the list of some retro emulators that can play retro games on your PCs, consoles, as well as Pandora Arcade Boxes:
PPSSPP is the console emulator for the PSP. The abbreviation stands for "PlayStation Portable Simulator Suitable for Playing Portably". Dolphin is another console emulator but for the GameCube and Wii consoles. Yuzu is a free emulator made to run Nintendo Switch games. GENPlusDriod, Fusion, HazeMD, RetroDrive5, AGES, and RetroCopy are all emulators for Sega Genesis.
Moreover, MyBoy, VisualBoyAdvance-M, Boycott Advance, No$GBA, MyGBA, GBA Pro Plus, Matsu, and DreamGBA are all emulators for the GameBoy console. As with any other console, we have emulators for Dreamcast as well. Some of them are Redream, Flycast, NullDC, Reicast, and DEMul.
Too many names to remember? Do not panic, just get a Pandora Box Platinum Pro and forget about the names and/or how to download them all. Work smarter, and play harder!
Now we look at some of the games that the Pandora Box Platinum Pro can power from the other consoles.
1: PlayStation 1 (PS1)​
2: Nintendo 64 (N64)
3: Dreamcast
4: Sega Genesis
5: NEO GEO
6: Super Nintendo (SNES)
Now do you see why the Pandora Box Platinum Pro is the best Pandora there is?
Pandora Box Arcade Gaming News
This is about whether or not you should buy the Pandora Box Arcade and is it worth a purchase? ...